Keynote speakers UPP conference
Margot Fröhlinger
Principal Director Patent Law and Multilateral Affairs, European Patent Office
More information
Margot Fröhlinger former Director at the European Commission in charge of Intellectual Property joined the European Patent Office in April 2012 where she is Principal Director for Patent Law and Multilateral Affairs.  In this function she deals with issues such as the development of patent law at European and international levels, patent law harmonisation, cooperation with major IP offices, (IP5 and Trilateral), the strengthening and improvement of the PCT system, as well as with the implementation of the Unitary Patent and the EPO's relation with the UPC Preparatory Committee.
Kevin Mooney
Chairman of the Drafting Committee for the Rules of Procedure for the Unified Patent Court and Partner at Simmons & Simmons LLP
More information
Kevin specializes in contentious and non-contentious intellectual property matters, focusing specifically on patent litigation, especially in the pharmaceutical industry. He is the author of many articles and a frequent speaker in the UK, Europe and the US on intellectual property issues. Kevin qualified as a solicitor in 1971 and became partner in 1973. Kevin is recommended by 'Chambers Guide to the Legal Profession' as being cited by peers as 'the doyen of patent law'. 
Marie Courboulay
Vice-President 3rd Chamber – Intellectual Property Paris Court of Appeal, France
More information
Marie Courboulay has been a judge since 1983, and has worked on IP matters since 2002, first in the Court of First Instance of Nanterre, and since 2005, at the Court of First Instance Paris (Tribunal de grande instance Paris).
She is the head of the 3rd Chamber at the TGI Paris, specialising in copyright, trademarks, designs and patents. She keeps abreast of the recent developments in IP law and jurisprudence in France and Europe.
Dr. Klaus Grabinski
Judge, Federal Court of Justice of Karlsruhe, Germany
More information
Dr Klaus Grabinski was appointed as judge in the Federal Court of Justice (Bundesgerichtshof) in 2009. At the Federal Court of Justice he is allocated to the 10th Civil Division (X. Zivilsenat), which has inter alia jurisdiction in patent dispute matters. Before, he was Presiding Judge at the District Court in Dusseldorf in one of the two Patent Litigation Divisions (2001-2009), Judge at the Court of Appeal in Dusseldorf (2000-2001), Legal Researcher at the Federal Court of Justice (1997-2000) and Judge at the District Court in Dusseldorf (1992-1997).
Dr Grabinski studied law at the Universities of Trier, Geneva and Cologne. He is co-author of a commentary on the European Patent Convention (Benkard, Europaisches Patentubereinkommen, 2nd edition) and a commentary on the German Patent Act (Benkard, Patentgesetz, 11th edition) and author of several articles concerning Patent Law, Civil Procedure and International Private Law.
Dr Grabinski is member of an Expert Panel that is advising the Preparatory Committee of the future Unified Patent Court on different work streams. He is a frequent speaker at national and international conferences on patent law.
Fredrik Egrelius
Director, Patent Unit United Kingdom IPR & Licensing, Ericsson Limited
More information
Fredrik is the Director of Patent Unit UK at Ericsson. He is a European Patent Attorney and an authorized patent attorney in Sweden, with experience from the Swedish patent office, private practice and industry in-house departments. Fredrik leads Ericsson's internal work group for the preparation of Ericsson's utilization of the Unitary patent package.
---
Speaker UPP Bootcamp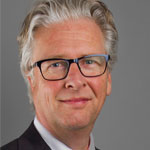 Wouter Pors
Partner, Bird & Bird
Bart van Weezenbeek
Senior Associate and Dutch and European patent attorney, V.O. Patent & Trademarks
Hans Hutter
Partner and Dutch and European Patent Attorney, NLO
Bas Pinckaers
Head of Department, Van Doorne